Product Detail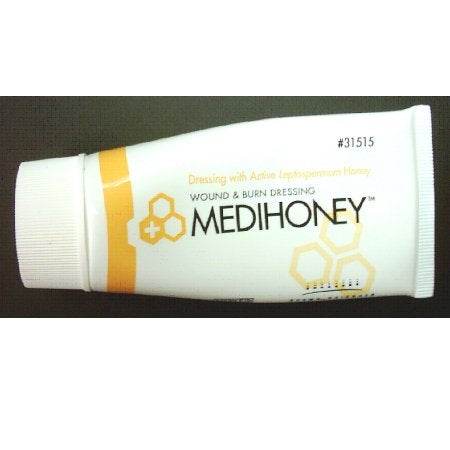 Wound Dressing - Wound and Burn Dressing MEDIHONEY Gel
Vendor: McKesson
Type: Wound Care
Product #: 31815
Fast Delivery

avg. 1-2 days

Free Shipping

Orders > $100

Huge Selection

Major Name Brands

Family Owned

Serving since 1995
Wound and Burn Dressing MEDIHONEY® Gel 1.5 oz. Tube
Features
MEDIHONEY® Gel with Active Leptospermum Honey
Sizes: 1.5 oz and 0.5 oz.
80% Active Leptospermum Honey with 20% natural gelling agents.
Under the supervision of a healthcare professional, MEDIHONEY® GEL WITH ACTIVE LEPTOSPERMUM HONEY dressing provides a moist environment conducive to wound healing and is indicated for non-draining to moderately exuding wounds such as: Diabetic foot ulcers, Leg ulcers (venous stasis ulcers, arterial ulcers and leg ulcers of mixed etiology), Pressure ulcers / sores (partial and full thickness), 1st and 2nd degree partial thickness burns, donor sites, and traumatic and surgical wounds.
More viscous formulation with increased stability at the wound site.
Optimal for superficial to full thickness wounds.
Cleanses and debrides due to its high osmolarity.
Helps to lower the wound pH, for an optimal wound healing environment.
Sterile
Single Use
Not made with natural rubber latex.
Gel: US patent #11/106473 pending and foreign counterparts granted and pending.
MEDIHONEY is a registered trademark of Medihoney Pty Ltd. and used with permission by Derma Sciences, Inc.
For more information on MEDIHONEY® please visit www.dermasciences.com/elearning-portal/webinar-series.
Purchasing & Delivery
Before you make your purchase, please be aware a prescription is required for all intermittent and indwelling catheters. It is your responsibility to have a valid prescription available prior to ordering.

Picking up at the distribution center
GO Medical requires that all products are properly inspected BEFORE you take it home to insure there are no surprises.. GO Medical will not be responsible for damage that occurs after leaving the store or during transit. It is the purchaser's responsibility to make sure the correct items are picked up and in good condition.