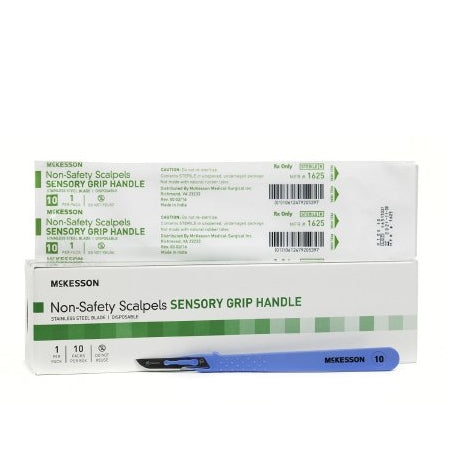 Scalpel - Stainless Steel / Plastic Sensory Grip Handle Sterile Disposable
Vendor: McKesson
Type: Professional Products
Product #: 1625
Fast Delivery

avg. 1-2 days

Free Shipping

Orders > $100

Huge Selection

Major Name Brands

Family Owned

Serving since 1995
McKesson Scalpel Stainless Steel / Plastic Sensory Grip Handle Sterile Disposable
Features
SELECT Disposable Non-Safety Scalpels consist of a pre-assembled surgical blade mounted on medical-grade plastic handle. The blade is stainless steel, and the handle features non-slip, bubble sensory grips on both sides, as well as a molded finger cradle for precise control and maneuverability. Easy-to-read graduated measurement marks are on the back side of the handle in millimeter scale to help determine incision length. These non-safety scalpels are individually-packaged in a peel-open clear blister pack. A protective sheath covers the blade to help prevent accidental cuts. 
Sizes: Size 10, Size 11, Size 15
Quantity: 10 each per box, 10 boxes per case.
Purchasing & Delivery
Before you make your purchase, please be aware a prescription is required for all intermittent and indwelling catheters. It is your responsibility to have a valid prescription available prior to ordering.

Picking up at the distribution center
GO Medical requires that all products are properly inspected BEFORE you take it home to insure there are no surprises.. GO Medical will not be responsible for damage that occurs after leaving the store or during transit. It is the purchaser's responsibility to make sure the correct items are picked up and in good condition.