Product Detail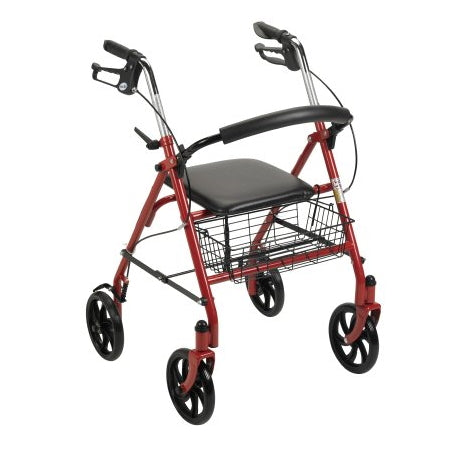 4 Wheel Walker - Rollator 31 - 37" handle adjustments, Folding Steel Frame, Up to 300 lbs
Vendor: McKesson
Type: Aids to Daily Living
Product #: 146-10257RD-1
Fast Delivery

avg. 1-2 days

Free Shipping

Orders > $100

Huge Selection

Major Name Brands

Family Owned

Serving since 1995
4 Wheel Rollator McKesson 31 to 37 Inch Folding Steel Frame 31 to 37 Inch
Features
McKesson Durable Steel Rollator,
Steel frame construction safely supports users up to 300 lbs.
Base: 19 Inch 
Loop Locks / Hanging Basket / Removable Backrest / Padded Seat
Designed with folding hinge for easy storage and portability
Ergonomically-designed handles are easy-to-grip, reduce hand pressure and are adjustable to accommodate users' height and preferences
Lever allows for independent handle height and angle adjustment.
Oversized padded seat and backrest are made of strong polyurethane material for durability, have a contoured design for ergonomic comfort, and provide cut and split resistance to prevent rubbing and irritation
Hinged padded backrest can be folded up, down or removed.
Deluxe loop-lock system operates like a bicycle hand brake to slow down or temporarily stop and easily lock into stationary position by pushing handle into down-position.
7 1/2-inch, non-marring casters are ideal for indoor and outdoor use
Includes hanging basket for conveniently transporting personal items.
Not Made with Natural Rubber Latex
Packaged: 1 Per Case
Delivery Fee: $15.00
WARNING: This product can expose you to di(2-ethylhexyl)phthalate (DEHP), which is known to the State of California to cause cancer and birth defects or other reproductive harm. For more information, go to www.P65Warnings.ca.gov.
Purchasing & Delivery
Before you make your purchase, please be aware a prescription is required for all intermittent and indwelling catheters. It is your responsibility to have a valid prescription available prior to ordering.

Picking up at the distribution center
GO Medical requires that all products are properly inspected BEFORE you take it home to insure there are no surprises.. GO Medical will not be responsible for damage that occurs after leaving the store or during transit. It is the purchaser's responsibility to make sure the correct items are picked up and in good condition.