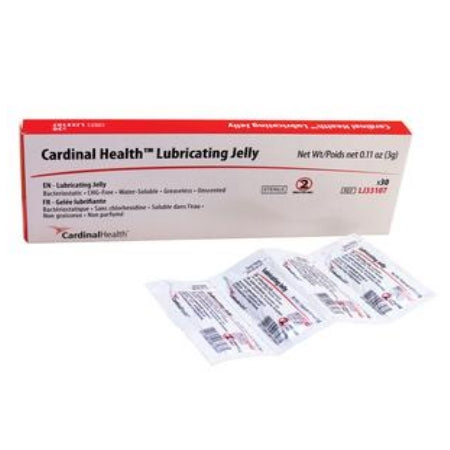 Lubrication Jelly Packets - 3 gram sterile packets
Vendor: Reliamed
Type: Accessories
Product #: ZRLJ33107
Fast Delivery

avg. 1-2 days

Free Shipping

Orders > $100

Huge Selection

Major Name Brands

Family Owned

Serving since 1995
Sterile, water soluble for quick, easy clean-up. Dye and latex-free.
Cardinal Health™ Lubricating jelly is a sterile, water soluble and greaseless lubricant used by doctors and nurses during many medical procedures. 
Micro flora sperm friendly.
Duals as ultrasound gel.
Great viscosity for better resolution.
Water soluble for quick, easy clean up.
Fragrance-, salt-, and alcohol-free.
PEG- And chlorhexidine-free.
Box of 30
Purchasing & Delivery
Before you make your purchase, please be aware a prescription is required for all intermittent and indwelling catheters. It is your responsibility to have a valid prescription available prior to ordering.

Picking up at the distribution center
GO Medical requires that all products are properly inspected BEFORE you take it home to insure there are no surprises.. GO Medical will not be responsible for damage that occurs after leaving the store or during transit. It is the purchaser's responsibility to make sure the correct items are picked up and in good condition.