Product Detail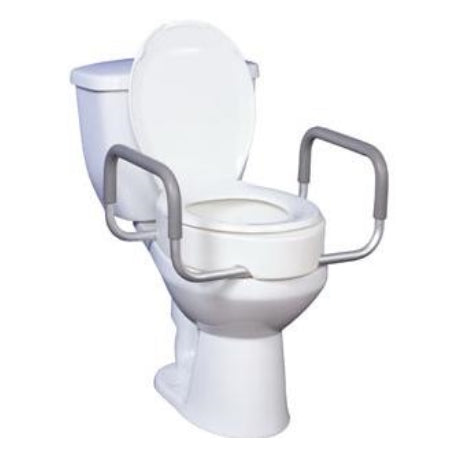 Raised Toilet Seat w/Arms
Vendor: Drive Medical
Type: Aids to Daily Living
Product #: 12402
Fast Delivery

avg. 1-2 days

Free Shipping

Orders > $100

Huge Selection

Major Name Brands

Family Owned

Serving since 1995
This premium seat riser by Drive is the perfect addition to any standard toilet. It includes removable arms that are molded into the riser but can be removed without a hassle. The arms feature rubberized grips for added comfort and provide support while standing up or sitting down. The composite construction gives the riser a contemporary look without skimping on durability. For consumers using a wheelchair tool free removable arms allow for easy transfer to and from the raised toilet seat. The product easily attaches to any standard toilet without tools.
Designed for individuals who have difficulty sitting down,or getting up from the toilet.
Allows individual to use their existing toilet seat and lid.
3 1/2" height
Tool-free arms are 19.75" apart and can be removed or added as needed.
Arm sleeves and receivers are made of metal.
Heavy-duty molded plastic construction.
Lightweight and portable.
No tools required for installation.
Easy to clean.
Purchasing & Delivery
Before you make your purchase, please be aware a prescription is required for all intermittent and indwelling catheters. It is your responsibility to have a valid prescription available prior to ordering.

Picking up at the distribution center
GO Medical requires that all products are properly inspected BEFORE you take it home to insure there are no surprises.. GO Medical will not be responsible for damage that occurs after leaving the store or during transit. It is the purchaser's responsibility to make sure the correct items are picked up and in good condition.