Product Detail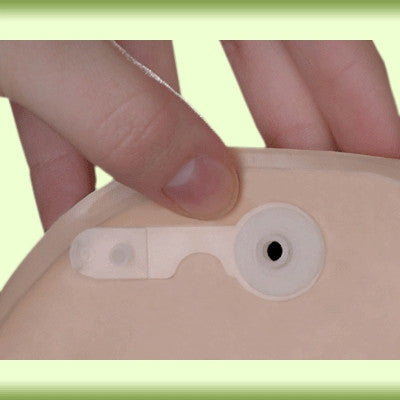 Ostomy venting device Osto-EZ-Vent
Vendor: Kem Enterprises
Type: Ostomy
Product #: KMEZVENT
Fast Delivery

avg. 1-2 days

Free Shipping

Orders > $100

Huge Selection

Major Name Brands

Family Owned

Serving since 1995
The Osto-EZ-Vent , a venting device, is a leading Ostomy product for any type pouch; one piece, two piece, drainable, or closed end. Easy, quick access makes the OEV a better alternative to burping or opening the bottom, less mess, less bother, more security. This ostomy product was designed without a filter for faster air release. The Osto-EZ-Vent was specifically designed without a filter to quickly release air build up on demand aiding in reducing pouch explosions, and wafers pulling loose. Because it is not a filtering device the Osto-EZ-Vent works efficiently, lasts as long as the pouch, it does not become ineffective in water, fits on any pouch, and it is easy to install and use. 
Easy to open and close.
Convenient and simple.
Attaches to any pouch.
Provides comfort, relief and confidence to Ostomy pouch users.
Easy to attach.
Easy to access ostomy vent. Avoids accidents.
Allows user to release air whenever and wherever necessary. (Privacy recommended).
No need to break the seal between the wafer and ostomy pouch to release air. Avoids accidents.
Gives user freedom to be as active as they wish.
Wearer can swim, bathe, golf, garden, play tennis, travel, hike, take long walks on the beach, etc.
Does not clog or become ineffective during use. (Hole must be made as large as vent opening) Lasts as long as the wearer wears the pouch.
Made of a flexible, durable polymer.
Adhesive tape is specially made. Bonds permanently. Limited bonding time required.
Bag of 10
Purchasing & Delivery
Before you make your purchase, please be aware a prescription is required for all intermittent and indwelling catheters. It is your responsibility to have a valid prescription available prior to ordering.

Picking up at the distribution center
GO Medical requires that all products are properly inspected BEFORE you take it home to insure there are no surprises.. GO Medical will not be responsible for damage that occurs after leaving the store or during transit. It is the purchaser's responsibility to make sure the correct items are picked up and in good condition.