Product Detail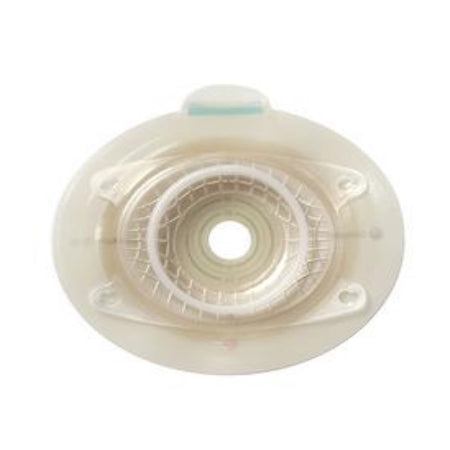 Ostomy Barrier - Coloplast SenSura Mio Click Two-Piece Ostomy Skin Barrier, Convex Light
Vendor: Coloplast
Type: Ostomy
Product #: 16911
Fast Delivery

avg. 1-2 days

Free Shipping

Orders > $100

Huge Selection

Major Name Brands

Family Owned

Serving since 1995
Coloplast SenSura® Mio Click Two-Piece Ostomy Skin Barrier, Convex Light, 5/8" to 1-3/16" Cut-to-Fit
SenSura® Click is a two-piece mechanical coupling system that combines the unique double-layer adhesive with an audible 'click' to ensure secure locking of the pouch to the barrier. SenSura® Click barriers are available in convex light. The oval shape of the convex light barrier is designed to help a stoma that is difficult to manage -- for example, a stoma that is flush, retracted, or located in a skin fold. It applies light and directed pressure on the peristomal skin to reduce the risk of leakage by allowing the stoma to protrude.
An audible 'click' confirms that the pouch is locked securely to the barrier.
Before the pouch is locked into position, it can be rotated into the desired position to accommodate your body's position without having to remove the pouch from the barrier.
The mechanical coupling can also be repositioned to enable easy handling whether you're left or right-handed.
The pouch can be removed separately from the SenSura® double-layer barrier, allowing the pouch to be changed more frequently than the adhesive barrier.
The unique SenSura® adhesive has two layers: Protection layer - protects the skin from stoma output, skin care layer - keeps skin healthy by absorbing excess moisture.
Integrated filter - neutralizes odor and avoids the risk of the pouch "ballooning" and causing unnecessary bulges.
Removal tab - makes it easy to remove the adhesive barrier without leaving residues on the skin, allowing for more comfortable pouch changes.
Soft backing fabric - strong and water-repellent, allowing for easy drying after a shower or a dip in the pool.
Latex-Free
Box of 5
Purchasing & Delivery
Before you make your purchase, please be aware a prescription is required for all intermittent and indwelling catheters. It is your responsibility to have a valid prescription available prior to ordering.

Picking up at the distribution center
GO Medical requires that all products are properly inspected BEFORE you take it home to insure there are no surprises.. GO Medical will not be responsible for damage that occurs after leaving the store or during transit. It is the purchaser's responsibility to make sure the correct items are picked up and in good condition.