Product Detail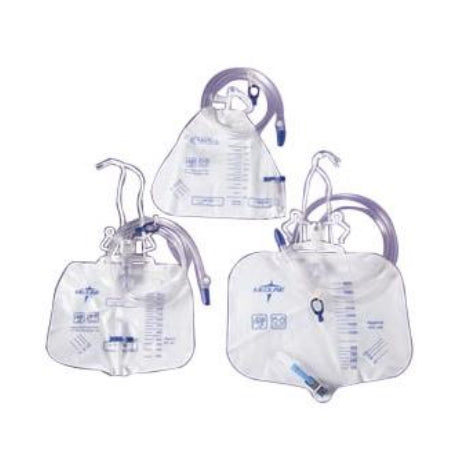 Night Drainage Bag - Medline Industries Drainage Bag with Anti-reflux Tower 4000ml
Vendor: Medline
Type: Collection Bag
Product #: DYND15405
Fast Delivery

avg. 1-2 days

Free Shipping

Orders > $100

Huge Selection

Major Name Brands

Family Owned

Serving since 1995
Medline® Industries Drainage Bag with Anti-reflux Tower 4L, Latex-free
Drain bags come with a reinforced hanger with built-in antikink drain tube guide. 50" of 11/32" STARLUMEN® Tubing facilitates drainage of thick, fibrous urine while resisting kinking. Adjustable bed sheet clamp secures tubing and needleless sample port that is accessible with either a blunt cannula or needle. 2000 mL capacity, 20 each case. Continuous bladder irrigation drain bag. 4000 mL capacity, antireflux tower, drainage port with metal clamp. Packaged O.R. sterile in Tyvek peel pouch.
Designed for easy bag suspension with 50" of 11/32" premium STARLUMEN® Tubing for maximum drainage and minimum kinking.
Antireflux tower facilitates urine flow and provides reflux control.
Needleless sample port protects patient and caregiver.
Metal clamp design aids in bag drainage.
Packaged O.R. sterile.
Purchasing & Delivery
Before you make your purchase, please be aware a prescription is required for all intermittent and indwelling catheters. It is your responsibility to have a valid prescription available prior to ordering.

Picking up at the distribution center
GO Medical requires that all products are properly inspected BEFORE you take it home to insure there are no surprises.. GO Medical will not be responsible for damage that occurs after leaving the store or during transit. It is the purchaser's responsibility to make sure the correct items are picked up and in good condition.