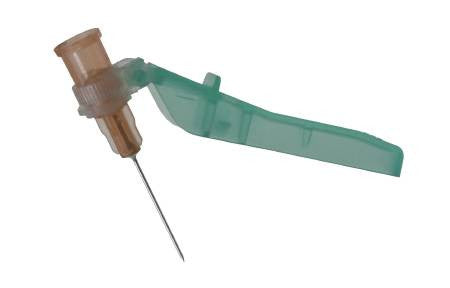 Needle Hypodermic Safety 25g x 1"
Vendor: McKesson
Type: Professional Products
Product #: 102-N251S
Fast Delivery

avg. 1-2 days

Free Shipping

Orders > $100

Huge Selection

Major Name Brands

Family Owned

Serving since 1995
25 Gauge x 1"
Ultra Thin Wall
Unique needle locking mechanism helps reduce risk of needlestick injury.
Extremely sharp needle provides patient comfort.
Regular Bevel
Simple, intuitive, no complicated mechanisms.
Safety mechanism is compliant with OSHA standards for Safety Engineered Sharps.
Small sheath for better visibility.
ISO-color coded packaging and needle hubs.
Hard surface activation keeps fingers always behind needle.
Bevel oriented up when sheath is to the right.
Sterile
Non-Toxic, Non-Pyrogenic
Not made with natural rubber latex.
Packaged: 100 Per Box
Purchasing & Delivery
Before you make your purchase, please be aware a prescription is required for all intermittent and indwelling catheters. It is your responsibility to have a valid prescription available prior to ordering.

Picking up at the distribution center
GO Medical requires that all products are properly inspected BEFORE you take it home to insure there are no surprises.. GO Medical will not be responsible for damage that occurs after leaving the store or during transit. It is the purchaser's responsibility to make sure the correct items are picked up and in good condition.